Welcome back to What The Luxe, a newsletter packed with
insights & intelligence for luxury, beauty & lifestyle marketers
—written by me, David Klingbeil
Know-how and craftsmanship - whether it be assembling the ideal handbag or weaving the perfect scarf - have always been what sets luxury brands apart.
However, a true luxury brand is more than just the sum of its products. It is an alchemy that goes beyond manufacturing to capture a unique space in the customers' hearts and minds, by developing special relationships with them.
Luxury brands go way beyond creating beautiful products and therefore they've had to develop a unique set of skills:
They've perfected the art of storytelling,
They've developed their creativity in advertising, retail and customer relationship management,
And most importantly they've learned how to master digital experiences on the web and in the metaverse
With their roots in craftsmanship, their hearts in creativity and their wings in the digital world, century-old luxury brands are updating the luxury playbook year after year.
And by doing so, they show us that luxury today is more relevant than ever...
I hope this newsletter will inspire you, surprise you and make you think… What the Luxe?!
Cheers,
PS: feel free to hit reply to leave a comment, I read and answer every message
---
Interested in web3, NFTs, metaverse and crypto?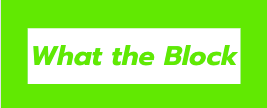 Sign up to What The Block, the latest newsletter where I share my discoveries and insights on the web3.
Make sure you check this article where I analyse MAC Cosmetics' NFT campaign.
---
💡 Products & Trends
⛓️ Web3 & The Metaverse
🛍️  Experience & Retail
🌲 Sustainability & Purpose
💼 Business & Finance
📺  Marketing and Advertising
✌🏼 Misc
Long form content (>1min)
Montblanc - "Writing with a fountain pen is like pouring my soul on paper" I Alessandra Elia I Montblanc ( 1m55 )
CHANEL - N°1 DE CHANEL, BEAUTY AHEAD OF TIME - CHANEL Skincare ( 1m )
Cartier - Cartier Masters of Art: Marquetry Expert ( 1m38 )
GUCCI - A World in Blue GG Monogram ( 1m )
Short form content (<1min)
Piaget - Turn life on with Possession | Piaget ( 24s )
Veuve Clicquot - VEUVE CLICQUOT | Brand Campaign | Full vidéo ( 30s )
RIMOWA - RIMOWA x Porsche | Der Ungelöste Fall Pepita ( 43s )
Tiffany & Co. - Tiffany & Co. — Tiffany HardWear x ROSÉ ( 40s )
On top of the regular What The Luxe, I share deep-dives on hot topics in the luxury industry with the Premium subscribers.
Check the full list of Special Reports.
Here are the latest special reports:
Have you considered going premium?
If yes, subscribe now to What The Luxe Premium and gain access to the full experience and to support our work <3
Luxury is as much about business as it is about creativity. Staying inspired is key. Here's a selection of what keeps me inspired:
---
If you've enjoyed What The Luxe, share it with a friend. If you've hated it, share it with an enemy.
Never miss What The Luxe!
To make sure that you always get your issue of What The Luxe, drag this message into your primary tab. #proTip