It's hard to believe that Virgil Abloh has passed away at the young age of 41.
He's been creating art for most of his life, but was just recently catapulted into the spotlight when he became the first African-American to lead a luxury fashion house when he was named creative director of menswear at Louis Vuitton.
Moments like these make us nervous for the fate of our planet. It feels like the creativity of mankind is fading away.
VIRGIL WAS HERE | LOUIS VUITTON
When I first learned about it I was in shock. And then I did what any data analyst would do: I started to look at the data trail left behind this genius.
By analyzing more than 200 videos on Youtube (with 90M views in total) and 1100 posts on Insta with a specific tool I've created (more about that soon) I was able to learn more about this absolute creative mind.
I'll share my findings with you in this article
1) Virgil and luxury brands
When thinking about Virgil Abloh, many words come to mind: genius, creativity, humor, ... But what can we tell by looking at the data trail he left on the internet?
First stop, the 65 Brand Campaigns YouTube videos posted by luxury brands that mention his name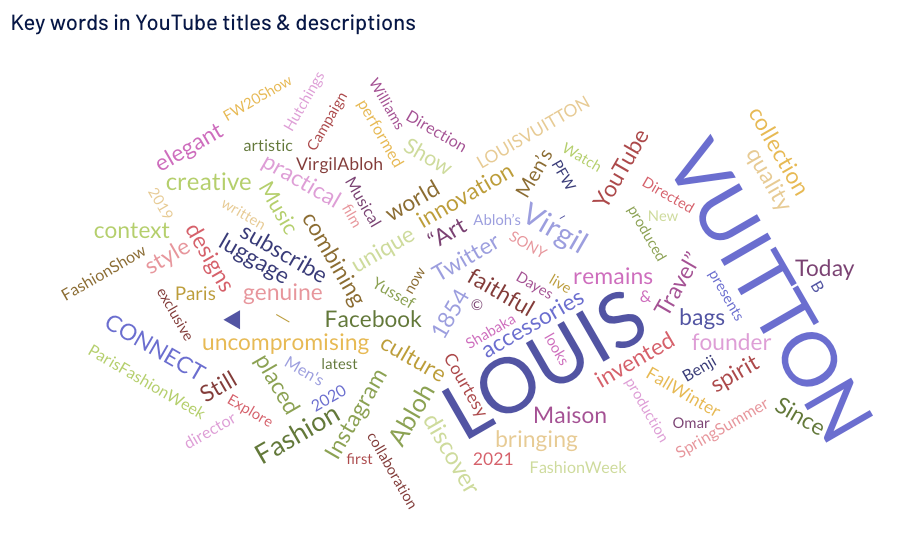 From the raw data, we see the following words emerging:
elegant
uncompromising
unique  
CONNECT
creative
now
culture
performed
first
invented
Similarly, by looking at the captions of 1090 insta posts mentioning his name we see the following words used to describe Virgil Abloh's work:
show
performance
Music
Original
party
boyhood
classic
capsule
codes
Artistic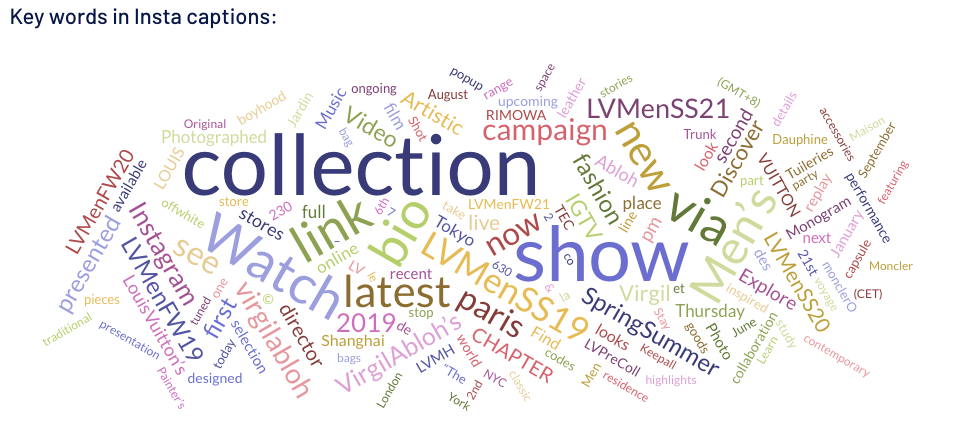 This says a lot about the values and drivers of this creative genius.
It is also interesting to follow the history of his appearances on social media.
In 2015, Virgil Abloh made his first appearance on YouTube in this LVMH video "LVMH PRIZE - One week to meet Virgil Abloh"
The next year, Calvin Klein was the first brand to feature Virgil Abloh in a YouTube video. The year was 2016 and it was the recording of a live concert where Virgil Abloh was a DJ.
Starting 2017, the designer was featured in multiple videos from Louis Vuitton ,including behind the scenes. One of my favorite is this behind the scenes that shows his creative process
More recently, Rimova - another brand from the LVMH group - released a series of videos in collaboration with Virgil Abloh's Off White brand.
2) Virgil, the creators & the media
Brands were not the only one admiring Virgil Abloh's creativity. A lot of other players of the fashion industry gave him a platform, from independent content creators to mainstream media and even... Harvard University
2017 - A conversation between two fashion giants
SHOWstudio - Virgil Abloh and Kim Jones: In Conversation - 141038 views
2017 - How Virgil took street wear and gave it the quality of luxury
The New York Times - Virgil Abloh is Saving Luxury With T-Shirts | In the Studio - 1733013 views
2017 - Speech at Harvard's Graduate School of Design
Harvard GSD - Core Studio Public Lecture: Virgil Abloh, "Insert Complicated Title Here" - 41741 views
2018 Naomi x Virgil
British Vogue - Naomi Campbell Meets Virgil Abloh | British Vogue - 900594 views
2020 How Virgil stole Kanye's dream job?
Soulr - Virgil Abloh: How Kanye's Apprentice Stole His Dream Job - 2447078 views
3) Get access to the whole data
Do you want to learn more about Virgil Abloh's content?
I've gathered all this data in a spreadsheet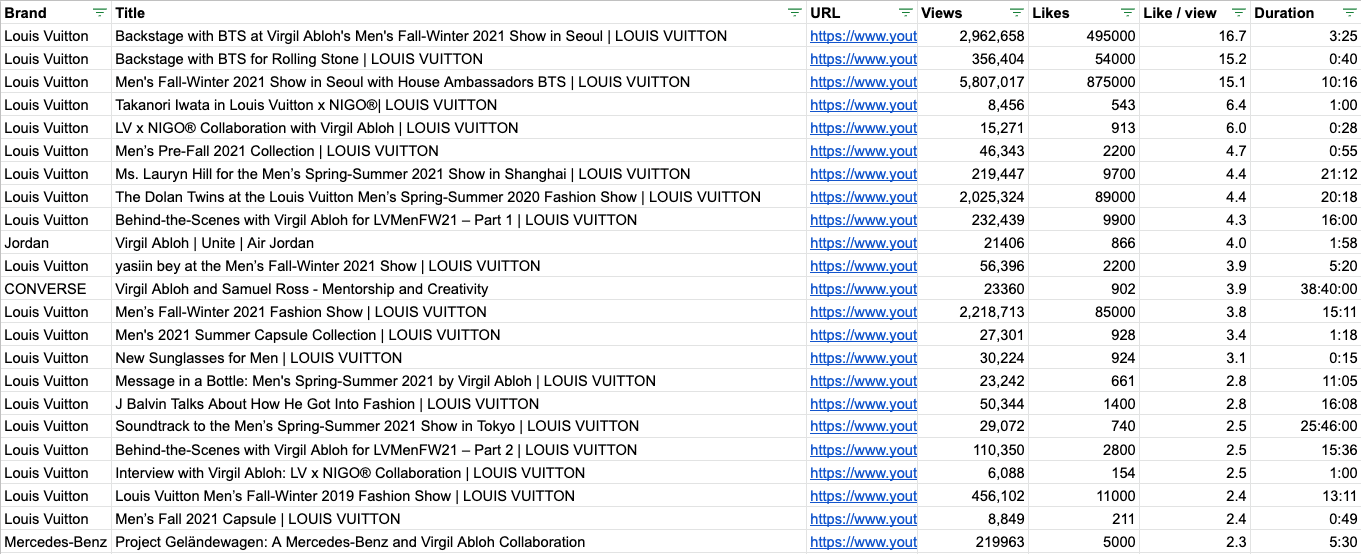 It contains the link to 200 videos from media, creators and brands (Louis Vuitton, Jordan, Rimowa, Calvin Klein, Mercedes Benz, ...).
"RIP"